Genetically, women are a step ahead sensitive about what they wear. That's why, even when I buy something for her, I have to be more concerned about her taste more than I do for myself. Last month, I got her a gorgeous watch as a birthday present. After literally a minute of the frightening moment, she gave her precise feedback, "I love it."
That drove me to share this Daniel wellington watch reviews regarding the very eye-catching DW00100219 women's watch. And my instinct says you will also love that persona.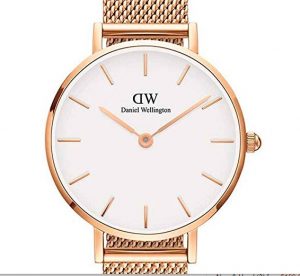 About Daniel Wellington
It was a dramatic meetup between Filip Tysander (Founder) and Mr. Daniel Wellington when the idea of the renowned watch company arose in 2011. Since then, the watchmaker introducing many minimalist watch designs to their customers. And I should admit that, once one bought a line of Daniel Wellington, becomes loyal and addictive to the brand.
Daniel WellingtonDW00100219 Petite MelroseWomen's Watch
This specially designed for women watch the perfect stuff to wear on or to gift someone closest to you. As my experience said, you will get a thump up for sure. Let's drive your look at the specifications first to get an idea about the watch.
Specifications
| | |
| --- | --- |
| Brand | Daniel Wellington |
| Model | DW00100219 |
| Year | 2018 |
| Band | Stainless-Steel |
| Band-length | 8.75-inch |
| Band-width | 12mm |
| Band Color | Rose Gold |
| Bezel | Stainless-steel |
| Bezel-function | Stationary |
| Case | Rose Gold |
| Case Diameter | 28mm |
| Case Thickness | 6mm |
| Clasp | Lobster Claw |
| Dial | Mineral |
| Display | Analog |
| Dial color | White |
| Movement | Japanese-Quartz |
| Shape | Round |
| Water-resistance | 100ft. |
| Weight | 1.4-Ounce |
Standout Features
Unlike my other reviews, this one is solely based on my wife's feedback. So, I guess the woman who is reading right now will get a better understanding of the female pieces of stuff.
·        Luxury and Elegant
The Petite Melrose is the watch for rose gold lovers. Thought it offered with two colors – black/rose gold and white/rose gold, but I bought the white one. Thus I am going to talk based on that.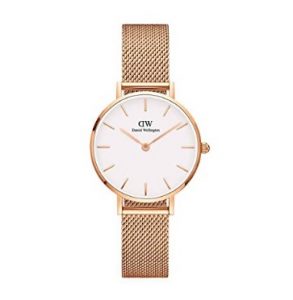 In the first look, you will love the watch because it matches with almost any sort of outfits you can imagine. The eggshell white dial design with rose gold mesh strap makes you complete and confident whether you are preparing for a party or office.
·        Durable and Comfortable
Most of the materials are made of stainless steel including the band and bezel. Thus your hands have no chances of getting in connection with rust.
Another essential trait of the Denial Wellington, which they have followed herealso, is the comfortability of wearing. The round shape watch reliably naps above your hand.
·        GorgeousBand
Whatever your color tone is, the rose gold mesh band it has will glorify your personality equally. But remember, since the length is adjustable from 5.9 inches to 8 inches, you have to be clear if that fits your hands or not.The width of the band is 12 mm, which is standard for women's hands.
·        MixedGenres
Although people consider Daniel Wellington as a vintage design watchmaker, the Petite Melrose is different. It looks modern and friendly on every ageof hands. I would say, if you are a fan of analog display type and Japanese Quartz movement, this gear is for you. 
·        High-end Manufacture
As the dial window is made of heat-treated mineral, any kind scratch will not appear on it. Therefore, even after a while of use, your watch will be just like a new one. And like Daniel Wellington's other watches, this one also comes with water-resistant backup.
Pros
Anti-scratch

Water protected

Adjustable length

Graceful design

For all ages
Cons
Daniel WellingtonDW00100219- Final Verdict
Well, that is all about today's Daniel Wellington watch reviews.I am sure you are also feeling the same sort of fondness to the watch that I felt when I saw it the first time in a store.It's due to the unique design touch it got.Buzz me with whatever opinion you've reached. You can see Reliable Akribos Watch for better choice also. Take care.