After sharing my earlier Relic watches review, many of you asked me to do more reviews on Relic by Fossil's watches, especially the ladies. Later I headed into their product list and found this graceful ZR34558 women's watch.
Usually, Relic by Fossil watches is a bit pricy than the other affordable luxury watchmakers like August Steiner and Tissot. But I justify that as acceptable because their timepiece talks lots of values.
About Relic by Fossil
The beginning of Fossil in 1984 was a bit tougher since, at that time, having a luxury watch was not that much meaningful. It is the reason behind creating another brand called Relic, which not only got immense access to the user panel but also made us affectionate of using brand watches.
Relic by Fossil ZR34558 Women's Casual Watch
It's a pretty casual watch, as the name tells. For parties and official meetups, the ZR34558 can be a flowing extension for mid-aged ladies. Mostly, the trait that made it stand out is the simplicity of the design.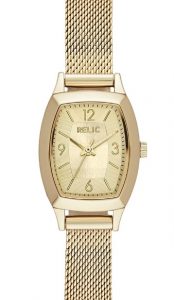 Specifications
| | |
| --- | --- |
| Brand | Relic by Fossil |
| Model | ZR34558 |
| Bezel | Stainless-steel |
| Bezel Function | Stationary |
| Band | Stainless-Steel |
| Band length | Standard |
| Band-width | 10mm |
| Band Color | Gold |
| Case | Stainless-steel |
| Case diameter | 20mm |
| Case Thickness | 8mm |
| Clasp | Tang Buckle |
| Dial window | Mineral |
| Dial (color) | Gold |
| Display | Analog |
| Movement | Quartz |
| Shape | Tonneau |
| Water-resistant | 165ft. |
| Weight | 1.4-Ounce |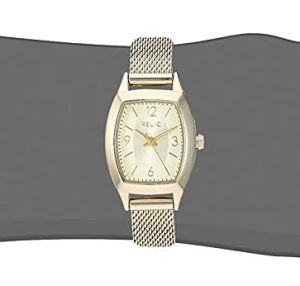 Standout Features
You might get an idea about the timepiece after hovering on the specifications. If still, you have not reached your decision, then check out my below observations regarding the watch.
· Luxury Icon
Well, it is needless to admit that this Relic by Fossil casual watch is for the women who are straightforward in life. There is no other design aspect rather than the decent craftsmanship. A quartz movement equipped in the watch; therefore, you don't need to throw away this extravagance watch when the battery is dead.
· Durable
Added with mineral crystal face allows the ZR34558 to be protective against scratch. On the other hand, its mesh strap, which is made of stainless steel, is able to resist rust. Another great aspect is it is fully waterproof. So, it's a full mark from my side on durability.
· Accuracy
I wasn't expecting that this sort of women's watches would have a luminous display, but it does have. The combination of the gold-tone three-hand display (analog) and markers makes it easier to figure out the time with accuracy.
· Size
Relic by Fossil made the timepiece appreciable in every sense. Meanwhile, this Tonneau shaped watch with standard band length will fit on most of the ladies' wrist. Since the case thickness is only 8mm, you won't feel it heavy as well. So, comfort comes with fashion.
· Color and Gift Box
Unfortunately, this urbane wristwatch offered with only gold color. But you can click on the link to see silver and silver/gold watches that are slightly different in design. And like always, with the watch, you are getting a premium looking gift box so that gifting it to someone can enhance your taste.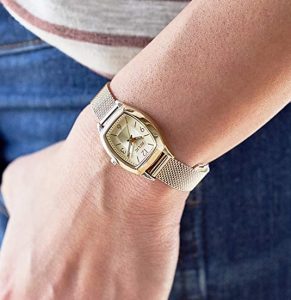 Pros
Replaceable battery

Lightweight

Decent design

Water-resistant

Adjustable clasp
Cons
Relic by Fossil ZR34558 Women's Watch – Final Verdict
I know being a user of a brand like Relic by Fossil means you can't switch to another. And that's why; you want their product to meet your expectations. I guess, after reading this Relic watches review, you also appreciate that this women's watch that of a kind. Now, it's your turn. If you have girl friend also try relic watch for women.