We saw some fantastic watches in 2019. Now, it's time to hop into the new decade. If you already have a New Year resolution of getting a premium watch, then this Daniel Wellington watches review might help you a lot.
In the review, I am going to talk about the most standout vintage watch, DW00100169 Petite St Mawes, by the maker Daniel Wellington.So, dear leather lovers, let's begin.
About Daniel Wellington
Daniel Wellington founded in a coincidental meeting held between Filip Tysander and a British gentleman. Guess what? That gentleman was Danial Wellington who had a fondness to vintage watches.
The Petite DW00100169 comes around with the tradition of Daniel Wellington. More specifically, the particular watch designed with a vintage look for what people love the brand. It is different and mostly acceptable because of the unpretentious style.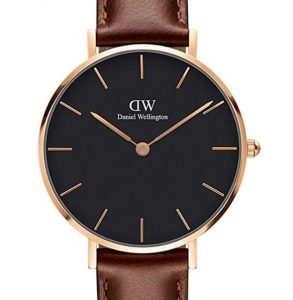 Specifications
| | |
| --- | --- |
| Brand | Daniel Wellington |
| Model | DW00100169 |
| Year | 2017 |
| Band | Leather |
| Band diameter | 8-inch |
| Band-width | 14 millimeters |
| Band Color | Brown |
| Bezel | Stainless steel |
| Bezel function | Stationary |
| Clasp | Tang Buckle |
| Case | Rose-Gold |
| Case diameter | 32mm |
| Case thickness | 6mm |
| Dial | Mineral |
| Dial color | Black |
| Display Type | Analog |
| Movement | Japanese-Quartz |
| Shape | Round |
| Water-resistance | 100ft |
| Weight | 1.4-Ounce |
Standout Features
Well, you got a glance at the specifications already. Now, it's time to share my favorite aspects regarding the watch.
·        Symbol of Style
The DW00100169 is a design to reflect the classic thought of Daniel Wellington. It's a sophisticated watch with a contemporarylook and made people biased to grab it in the first impression.
·        Thicker
Daniel Wellington emphasized more to bring an archetypal look in the watch. Thus, the case thickness is only 6 mm.
A similar representation is visible in the hands as well. Its black dial size is only 32 mm. If you want something smaller, there is a 28 mm option also.
·        Sense of Quality
If you don't know, the St Mawes strap it has is made from Italian leather. So, you can feel the genuine leather every time you wear the Petite.In any sense, the combination of the black dial with the leather gives you a cowboy look.
On the other hand, the 316L double plated stainless steel case is the survival instinct that will last longer.
·        Versatile
The design itself is unique and unpredictable, which makes it diverse. It is a watch for both genders. And since adjustable sizes are available, anyone can put on the watch. Currently, the length is extendable from 5.9 inches to 8 inches. The leather width is 14 mm, so that you can't find it too fat or too thin.
·        Water-Resistant
Yes, your worries end here. The up to 3 ATM rain-resistant supportsyour confidence to show off your style with safety. Besides,if after a while, the leather strap fadesaway due to heavy raindrops, you can replace that with a new one.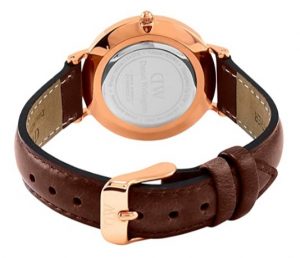 Pros
A design for everyone

Water-resistant

High-quality manufacturing

Adjustable sizes

Genuine leather strap
Cons
Not for them who doesn't like leather
Daniel Wellington DW00100169 – Final Verdict
I would let you know; if you are elegiac of leather, it might not the best suit. But if not, nothing is betterwith genuine leather strap and high brand appeal at this price. And meanwhile we the modern people are also accepting classic looking watch ever than before, this one deserves a try must.
If you like the Daniel Wellington watches review, make sure to subscribe to get the most updated watch reviews and don't forget to share your thought about the DW00100169 in the comment section. See more watch as a best watch for 2020.