To continue with the series of Relic watches reviews, here I am with another elegant model by Relic by Fossil, ZR77298 Jeffery men's wristwatch.  Relic by Fossil introduces the particular one for the high officials who are seeking something at the mid-budget range. What would be better than this when you don't have to count big bucks but getting something smart?
So, fellows, let's head into the straight review and find out whether it worth your attention or not. This watch is a Relic Wet Watch which I want to describe now. You will like it. Lets see!
About Relic by Fossil
Relic is an American sister company of Fossil Group. The company has a vast number of lines but mainly made its brand for making outstanding design lines of watches at a comparably affordable budget. In addition, the company is rolling in the industry since 1984.
Relic by Fossil ZR77298 Jeffery Watch
Though the Jeffery watch is made to intensify professional outfits still, it has the nature of matching casual appearances, mostly due to having the leather band. On the other hand, the round shape formal-looking case is the pure symbol of smarter people. Let's take a glance at the different specs to see what more you are getting.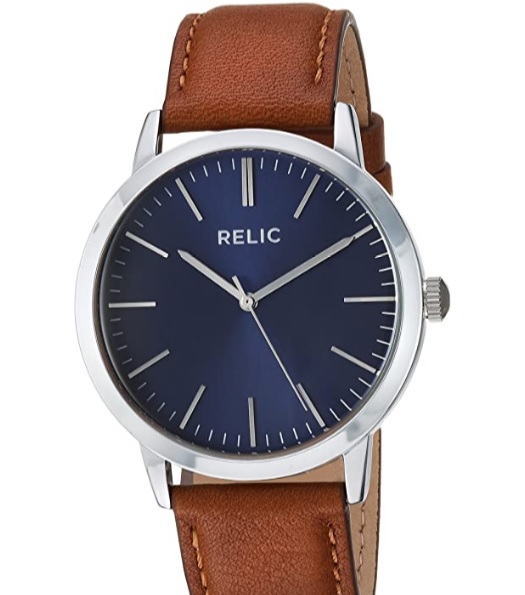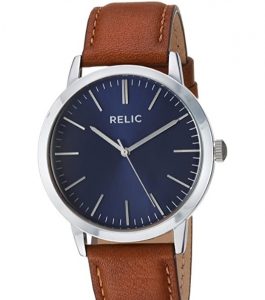 Specifications
| | |
| --- | --- |
| Brand | Relic by Fossil |
| Model | ZR77298 |
| Band | Leather |
| Band length | Standard (Men) |
| Band-width | 20mm |
| Band Color | Brown |
| Bezel | Metal |
| Bezel function | Stationary |
| Case | Metal |
| Case diameter | 40mm |
| Case Thickness | 8mm |
| Clasp | Tang Buckle |
| Dial | Mineral |
| Dial color | Blue |
| Display | Analog |
| Movement | Quartz |
| Shape | Round |
| Water-resistant | 100ft |
Standout Features
When it comes to getting the best-fit regards of a watch, I do prefer something that not only enriches style but also comes with a durable and handy design. Does Relic by Fossil ZR77298 Jeffery men's watch come with those aspects also? Let's find out.
·        Case
All of a sudden, it comes with a metal case, which seems like the main reason behind the low price tag. Yes, they have added high-quality metal, but I would instead prefer stainless steel case. Yet it's not a that bad deal though because the dial window is made of mineral crystal. Therefore, you can be confident about scratch attach.
·        Band
 When it comes to the band, it got full marks. The band is made of genuine leather. There is no color option, so you have to be satisfied with the brown one only. Oh! Another point I just forgot that the band comes with a tang buckle closure. And the 20mm width is quite accurate for small to the extra-large range of wrist.
·        Water-resistant
Yes, it does have water-resistant support just like Relic by fossils other's watches. It can be alive under 100 feet of water, as the manual says. But I would recommend you to keep it away from water as far as possible since bezel and case are made of metal. Therefore, there is a chance of rust appearance.
·        Design
To me, the timepiece indicates personality more than age. So, if you are wearing a formal or slightly casual outfit, it's is going to fit both well. The combination of the blue dial, silver-tone hands, and case, and lastly, the browns strap will look amazing with most of the suits.
·        Size 
As I mentioned before, it is made for mainly official's personas. So, you are not getting a giant case here, which is a universal appeal in youth. The case has a diameter of 40mm and a thickness of 8mm, so that it feels quite a handy.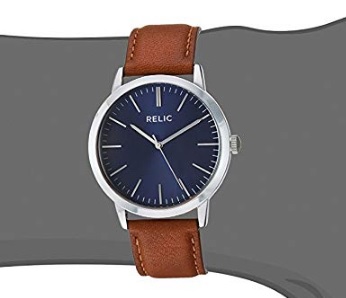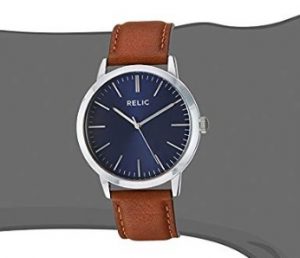 Pros
Protective against water and scratch

Mid budget premium watch

Satisfactory design

Fits common wrist sizes

Lightweight
Cons
Relic by Fossil ZR77298 Jeffery Watch – Final Verdict
By the end of the Relic watches reviews, I guess it has some functional design aspects to grab someone's attention, but yes, that guy has to compromise regarding the metal case and bezel. However, Relic by Fossil ZR77298 has a macho look that every man desires for. Ping me whatever you are thinking about the watch. You can see another best relic watch.