For a sportsperson, discipline is the trait that one just can't give up on. It's the core influence behind his triumph. And to symbolize that quality of winners, Tissot just brought a new sports watch in the market, the Tissot PRS 516 T1004173720100.
It is one of those high ranges of watches in the sports field. And the one I am going to review today is the Chronograph version of the PRS 516. So, let's start with today's Tissot watch reviews.
About Tissot
Tissot started its fascinating journey of making premium and rugged watch since 1853. The world knows the rest of the journey. Right now, most famous influencers on the earth like Klay Thompson, Liu Yifei, Marc Márquez, Deepika Padukone, Jorge Lorenzo, and many more are representing the brand.
Tissot PRS 516 T1004173720100 Watch Review
If you don't know, the PRS stands for Particularly Robust Sports. The PRS 516 reflects the association of the 1960's motorsports racing. It reveals with some certain racing car elements, which were presented back in the period. Let's head into the specifications to get more ideas.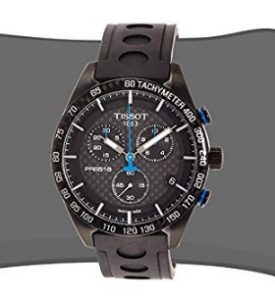 Specifications
| | |
| --- | --- |
| Brand | Tissot |
| Model | PRS 516 (T1004173720100) |
| Year | 2016 |
| Band | Rubber |
| Band-width | 20mm |
| Band Color | Black |
| Bezel | Stainless-steel + Carbon Fiber |
| Case material | Stainless-steel |
| Case diameter | 42mm |
| Case Thickness | 12mm |
| Clasp | Hidden |
| Calendar | Date |
| Dial | Sapphire Crystal |
| Dial color | Black Carbon |
| Display | Analog |
| Movement | Quartz |
| Shape | Round |
| Special features | Chronograph |
| Water resistant | 100m |
| Weight | 3.46-Ounce |
Standout Features
Tissot watches got loyalty among its users, mostly for its SWISSNESS; at least that is what the company believes. It does not only represent their brand value but also symbolizes tradition, innovation, and precision. Let' check out more about the watch.
·        Sport Watch
Though there have been a lot of bridges to the watch since the association, the highlights have been maintained. Mainly some of them are the black rubber strap, stainless steel case with distinguished black ceramic bezel.
Furthermore, you would love it in a first glance for the black carbon dial that equipped with silver-tone hands.
All of these above give it a proper sporty look and figure to tackle the stressful journey of the bikers.
·        Tough Design
Without the sporty outlook, it comes with some durable features as well. It has water-resistance support, which allows it to survive water pressure under 330 feet or 100 meters.
Since the case is built with stainless steel, this appurtenance is protective against rust. On the other hand, having an antireflective coating and sapphire crystal makes it scratch resistant. As a result, it feels new even after prolonged use.
·        Comfy Timepiece
A watch that ensures wrist comfort is every biker's demand. I would say this one will meet that demand for sure. The rubber made band handles wrist tension and gives comfort you need at the same time.
·        For All Men
 Not only for the macho outlook, this Tissot PRS 516 a choice for diverse ages. It comes with a case length of 42mm and a thickness of 12mm, which are neither very big nor very small. Also, the 20mm width band would fit perfectly on average hands. 
·        Very Handy 
Another trait that I would appreciate is 106 grams of weight. I always prefer a lightweight watch as a biker. It feels quite handy on the wrist. So, it's a thump up for the timepiece again.
Pros
Scratch protective

Water-resistant

Smart design

Long-lasting engineering

Lightweight
Cons
Doesn't have color options
Tissot PRS 516 T1004173720100 Watch – Final Verdict
Well, it's the end of the Tissot watch reviews. And I do admit that Tissot is one of a few brands that talk about the person through its great lines of watches. You can see more valuable watch with maximum discount. 
Remember, you are not paying for the specs of the PRS 516 Chronograph watch. It's the add-on in the sports field that represents your desire to win every time, every game, and that is the hidden value of this timepiece.